Our Story
Training Ties® are like Training Wheels for learning shoe-tying. During my 17 year career as an elementary school special education and phys ed teacher, I taught thousands of kids. For many of them, shoe-tying was a constant struggle. Typically, my classes would average somewhere between 50 and 60 students, but at one point I had a class with 80 kindergarteners. As you might imagine, dozens of students running around with untied shoes was a problem. To remedy the situation, I started teaching a shoe-tying unit every year as part of my curriculum. I tested and created many different tools to help kids of different ages and abilities learn the skill. 
Once I invented my first prototype of what became Training Ties®, several weeks spent teaching shoe-tying turned into the majority of my students learning in one class. 
What I saw in my kids was incredible. Confidence. Excitement. A desire to teach others how to tie their shoes. All from one little tool. One skill developed. One 10 minute session. I invented Training Ties® to help my students, and I started this business to make learning shoe-tying easier than ever in today's busy world. 
My wife Nicky and I have worked together to improve that original Training Ties® prototype, making sure the company and our products are aligned with our values. Our manufacturer is a small business operating out of the same Massachusetts town I taught in for 12 years because supporting local businesses and having a product that is made in the USA is important to us. We have a dozen colors, all waterproof and made of vegan leather. And shipping is always free. Our family packages and ships all of our orders from our home in southern California. 
We believe that learning shoe-tying should be fun and easy, so you have more time to enjoy with your loved ones
Experience the Difference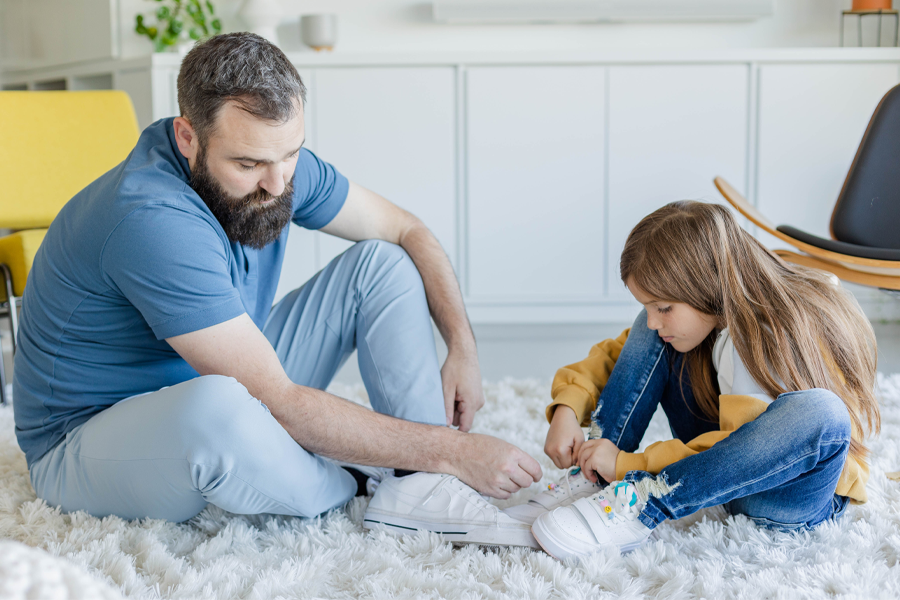 Regular price
Sale price
$25.00 USD
Unit price
per
Regular price
Sale price
$25.00 USD
Unit price
per